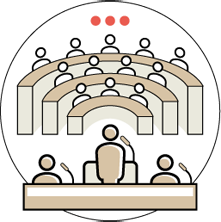 European Policy and Regulatory Affairs
T-REGS participates in relevant public hearings of the EU institutions, and drafts position papers on behalf of companies and trade associations wishing to influence European policy/law/regulation.
This can be followed-up by preparing proposed amendments to draft Regulations, Directives, Implementation Acts, Guidelines, Recommendations, European Parliament and Council reports and documents, BEREC Guidelines and Common Positions, other instruments, etc.
T-REGS has taken practical action at EU level on behalf of companies, filing successful complaints about erroneous transposition of EU directives in the Member States, by requesting the intervention of the European Commission at the development stage of national legislation and regulations, seeking to amend planned policies, initiating and participating in competition law and State Aid proceedings, etc.
T-REGS is able to assist companies in dealing with EU affairs, including escalation of local, regional or national issues to the EU level when and where appropriate.